The nominees for the 2017 Rush Ghana Dj Awards has been released on the 24th of March, 2017 at the MJ Grand Hotel.
Hosted by Hitz FM's Doreen Avio, the ceremony witnessed lots of celebrities coming in their numbers to support.
The likes of Dj Black, DJ Vyrusky, DJ MicSmith, DJ Ella Diva had nominations among others
The event proper is on, come the 8th of May at the Silver Towers.
Now check out the full list below
Dj Artiste Collaboration of the year @ Ghana Dj Awards 17
Dj Mic Smith – Olele
Vision Dj – Grind
Dj Black – Play man
Frenchkiss Dj – Cassanova
Dj Xpliph – I wish
Video Jockey of the year @ Ghana Dj Awards 17
Dj Xpliph
Dj Sly
Dj Black
Dj Aberga
Jay Smoke
Dj Krixmas
Discovery Dj Of the Year @ Ghana Dj Awards
Dj Ryna
Dj Mpesempese
Dj Kevin
Dj Kenya
Dj Scooby
Dj Laze
Dj Money
Dj Bridash
Reggae Dancehall Dj Of the Year @Ghana Dj Awards
Haruna Babanjida
Ras Bontai
Dj Rudebwoy
Conscious Queen
Empress Lomo
Dj Manni
Dj Nature Wan
King Lagazee
Dj Kuuljay
Hip Life Dj Of the Year @Ghana Dj Awards
Dj Gaddafi
Dj Chiefaro
Dj Pho
Dj Phletch
Dj Bakayoko
Kwame B
Dj Slim
Dj Mic Smith
Papa Bills
Best Campus Dj of the year @ Ghana Dj Awards 17
Dj Barma
Dj Matic
Jojo Neizer
Ad Dj
Dj Walpaper
Dj Smooky
Dj Blaqawt
Dj Stunner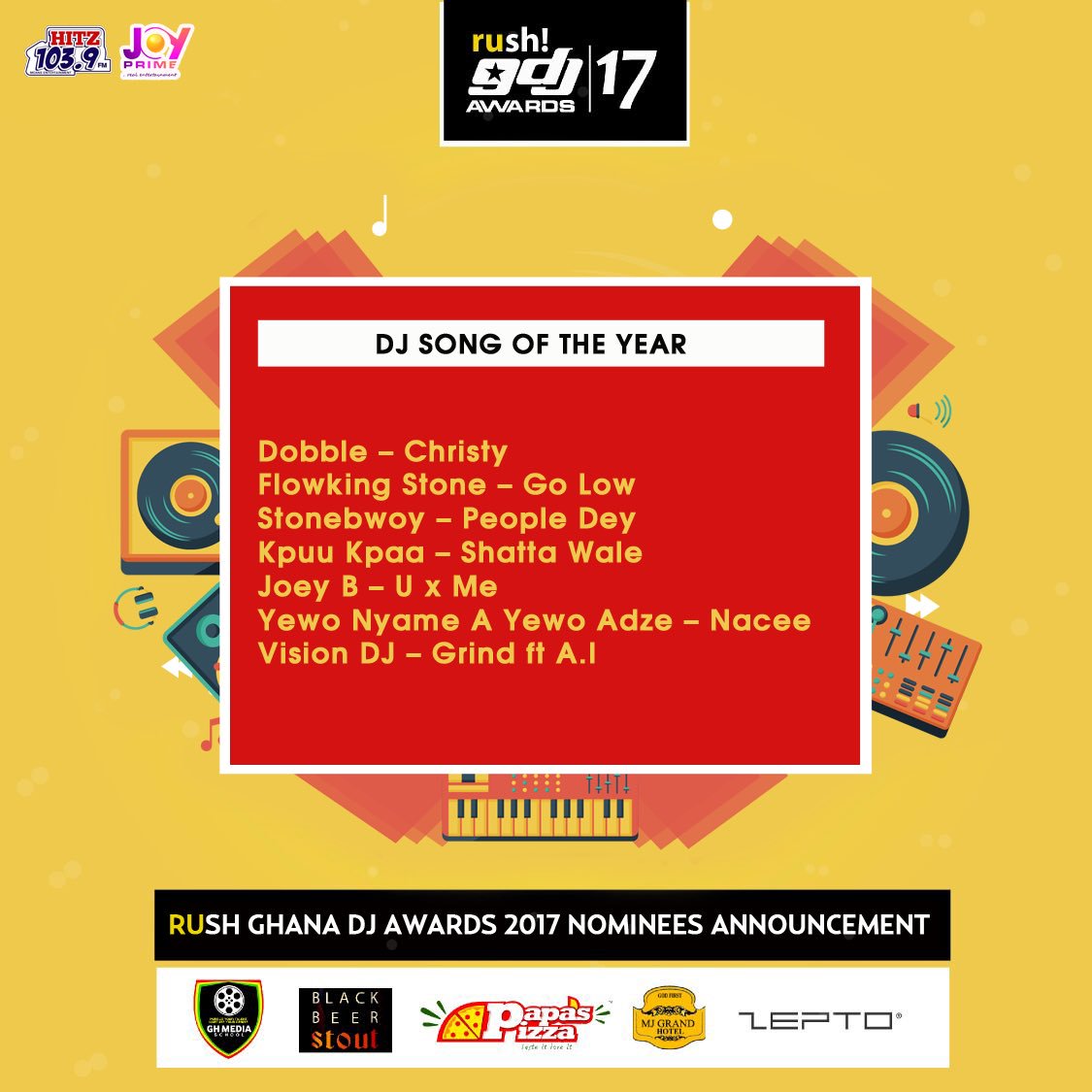 //platform.instagram.com/en_US/embeds.js
//platform.instagram.com/en_US/embeds.js
//platform.instagram.com/en_US/embeds.js
//platform.instagram.com/en_US/embeds.js
//platform.instagram.com/en_US/embeds.js
eonlineghana.com | Check out the full list of nominees of Ghana Dj Awards 2017