REVIEW: Sarkodie took a lot of things for granted during Rapperholic 2018. Yeah, it was that bad.
It is common practice to find people in a happy mood wherever music is played. One could start some good music in the midst of chaos and have positive feedbacks.
The point in case is, seeing people dance and move around during Sarkodie's Rapperholic should not cloud the fact that 2018's show was a poor one in many aspects.
For someone who recently disclosed his plans of wanting a meeting with Ghana's president to talk some national issues, managing a few thousands of the whole population shouldn't have been an issue but it was.
And don't give the Sarkodie had organizers excuse. Ghana's president Nana Addo Dankwah Akuffo Addo does not fill the forms and reports of the Bank of Ghana but he's the one the king SarkNation wanted a meeting with. Ultimately, Sarkodie was in charge of Rapperholic and had to make it better. First of all, the entire nation needs to take a critical look at the state of the Accra International Conference Centre. Room temperature is one of the key factors to consider for an audience in a confined space.
As it stands, the Conference Centre is just an enclosed human oven; a case point proved by almost every fan in the auditorium for 2018 Rapperholic manually fanning themselves.
Here's how Sarkodie and his team did not help. Shows are organized for money; understandable. However, every artist who organizes a concert should be sure of their venue's limit and stick by it.
That did not happen at Rapperholic 2018. If it did, then Sarkodie and his team owe the audience an apology and explanation as to why some section of the audience who had purchased VIP tickets worth GHc200 cedis could not have seats at the VIP section and basically had to sit on the floor.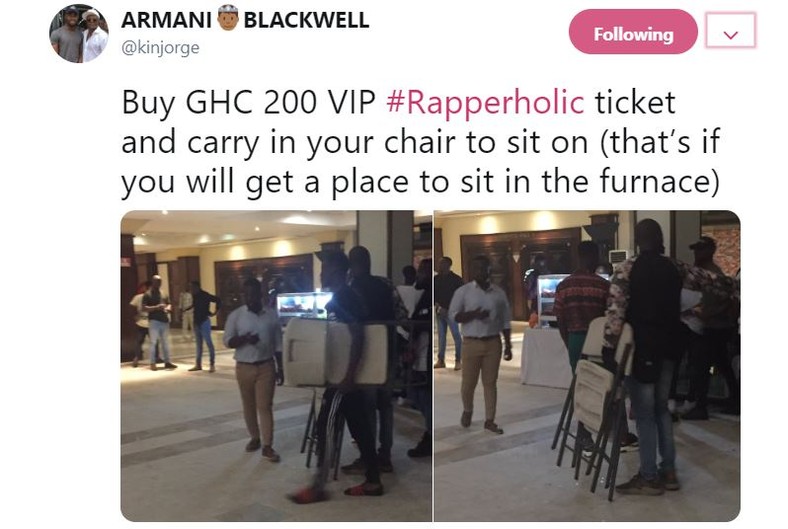 If you're sad for the VIP ticket holders, have a minute of silence for VVIP members who paid GHc300 and had to find their own chair and carry just to have a place to sit.
It is common practice to have humans leaving things late and trying to find their own ways to be happy. That's why even the classiest of shows have security to help with the safety of people.
Talking about safety, it was shambolic to put in simple terms.
The team hired francophone bouncers (in a bid to avoid fans who are mostly English-speaking having their way easily in convincing them as assumed by fans). However, the plan backfired causing overcrowding and choked walkways in the auditorium.
Irrespective of how hopeful a show organizer is of not having a mishap, one can't have people standing and blocking all the walkways, a mess captured on camera in DSTV's broadcast of the show.
"Concert de3, enoa ne Rapperholic (The only concert there is, is Rapperholic) and everyone wants to be here," one of the hosts of the show, Nana Aba Anamoah said in an apology to those standing, an apology that seemingly came as a result of the backlash on social media. And a bad one at that.
Sarkodie is already known as one of the best musicians on the African continent. Having done this for more than enough years, the finer details should have been sorted for an impeccable show but it wasn't. He felt it was all about getting on stage and shouting 'Obidi! Number One!'. No, that ship already sailed and unfortunately left 'Ghana's fastest rapper' in the dark.
The 2018 Rapperholic which admittedly could be one of the few to happen shouldn't have been just about music for Sarkodie. It was a moment to really give his fans an experience. Sadly, the experience was one to forget.
Ghanaian dancehall artiste Shatta Wale has mostly been criticized for being one that goes with anything. When it comes to branding, Sarkodie has almost always been used as a measure to what Shatta Wale should be.
Shatta Wale has been criticized many times on how rowdy his shows are. And it usually has to deal with the kind of fans he has and the kind of behaviour he entertains.
If all hypocrisy is put aside, Rapperholic 2018 was a clone of what Shatta Wale has mostly been criticized for. Just that it had nothing to do with the innocent fans who came to see their music idol but simply a poor organization.
Sarkodie should be embarrassed by how a lot of things went wrong at a show that should have been one of the biggest this year referencing the hype on social media. If he really wants to shape Ghana's music like his demeanor has proven, this was unacceptable.
But 'The Highest' probably does not take 'Advice' from a critique whose 'Huh' is not worth 10k.
He who has ears, let him listen.
NOTE: The music side of things wasn't disappointing. Sarkodie also gave what he calls 'the next generation' a second chance after the first performance of 'Biibi Ba' faced a technical hitch, an act that should be commended.
Here's what Ghanaians had to say about Sarkodie's Rapperholic 2018:
This guy who is just making an arrangement comparison.
This one who has a venue idea for King Sark.