Ghanaian actress Juliet Ibrahim has supposedly been gifted with a new multi-million dollar mansion and a car by her billionaire 'boyfriend' and Nigerian Real Estate mogul, Sijibomi Ogundele aka Sujimotos.
The actress earlier this year revealed that she was giving dating another try in 2020.
The Ghanaian screen darling shared the exciting news on her instagram page, showing off herself driving in the expensive Rolls-Royce – Phantom Coupe supposedly gifted to her by Chief Executive Officer/Managing Director of Sujimoto Construction.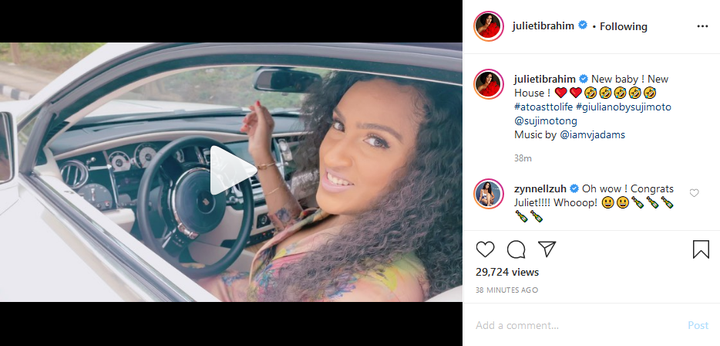 The recent display of extravagant gifts and the silent competition brewing among the female celebrities in the industry is certainly putting pressure on their partners. Not long ago, Nana Aba was gifted with a black Range Rover on her 42nd birthday which drove conversations on social media for days. Over the weekend, Socialite, Hajia4Real real name Mona Faiz Montrage was also gifted with a well-furnished mansion at Trasaco Valley with a brand new Range Rover as her birthday gift.
And we're sure these wont be last too as the silent competition continues among them.
Could Juliet Ibrahim also just be making a statement with these supposed gifts through a prank or she has indeed been gifted with these extravagant possessions? More soon.
See photos below and CLICK HERE TO WATCH THE VIDEO
Please Don't Forget To Kindly Leave A Comment Below.